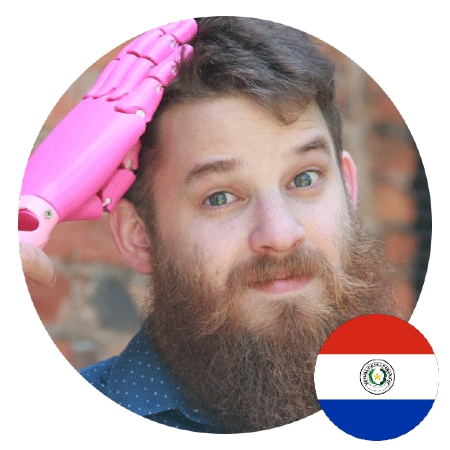 Director de Po Paraguay, una organización sin fines de lucro que busca mejorar la vida de las personas utilizando la tecnología. Trabajando con impresión 3D lograron incluir tecnología exponencial al proceso de creación de dispositivos prostéticos de bajo costo. Además es Estudiante de Medicina de la Universidad Nacional de Asunción.
Fue reconocido como Innovador menor de 35 por el M.I.T en el 2018 e Impact Fellow de Singularity University formando parte del congreso de Medicina Exponencial de Singularity en EEUU. Ganador de varios premios internacionales entre ellos el VIVA trust por impacto social y también es parte del primer cohorte de Young Leaders of the Americas por el departmento de estado de EEUU.
Es embajador del Gesundheit! Institute de Patch Adams donde se enfoca la medicina de una manera holisitica y centrada en el bienestar del paciente.
También es fundador de Braii, una startup que proporciona herramientas para la accesibilidad de crowdsourcing para personas con discapacidades visuales.